Seguin seeking float entries for 2020 Holiday Stroll Parade
Monday, November 16, 2020
Seguin, TX, USA / Seguin Today
Cindy Aguirre
(Seguin) – You're invited to be a part of history as the city of Seguin begins recruitment of entries for its 30th Annual Holiday Stroll Parade.
History will be in the making on Thursday, Dec. 3rd as the city prepares to still host a live parade but with several significant changes amid the COVID-19 pandemic.
As reported earlier, Lindsay Hajek, recreation superintendent for the Seguin Parks and Recreation Department, says not only has the location for the parade changed but so has its entire format. She says that's why it's even more important for groups to sign up their holiday floats as soon as possible for this new drive through experience.
"The Holiday Stroll Parade will go on. Of course, there are many differences this year. We are switching it up. It's going to be a drive through experience through Starcke Park. However, the floats that will not change very much. They will just be stationary floats. They will be parked on a designated route through Starcke Park where our spectators can drive through and still be able to see the holiday cheer, see the organizations on their decorated and lighted entries. They'll just pass by and our entries will wave as they go through, and we do have a designated area for our spectators to drive through. Currently, we are really working on getting our community involved with our parade entries. We have currently 13 entries. Our goal for the best drive through experience is 49 entries so we have quite a way to go. We just want to fill that entire path and make it as decorated and as beautiful and holiday spirited as possible. So, if any of our community, our organizations, our clubs, our groups want to come out and decorate, we need people to participate and get their entry to us," said Hajek.
Hajek says preserving a holiday tradition for the city was especially important this year and believes the city has found "the way" to safely make it all happen.
"In the planning process just to share a little more information, we have been doing this, the city has been doing this since the 90's and we didn't want a break in that tradition. This is actually the 30th annual parade so we want to make sure that it happens, and we found a way to make it as safe as possible. We want the community to know as well that there will be social distancing in place. We have spread out. We have plans where we will place the entries. We spread distance between each entry. We are encouraging only 10 people to be on the entry, itself, on the float and of course, we will wear masks and practice all those safety standards that we are so used to doing by now," said Hajek.
At this point, Hajek says it looks like Seguin will be one of the few if not the only community in the area to host a live holiday parade. But luckily, Hajek says Seguin not only had the layout but also the know how to help make such a memorable event happen.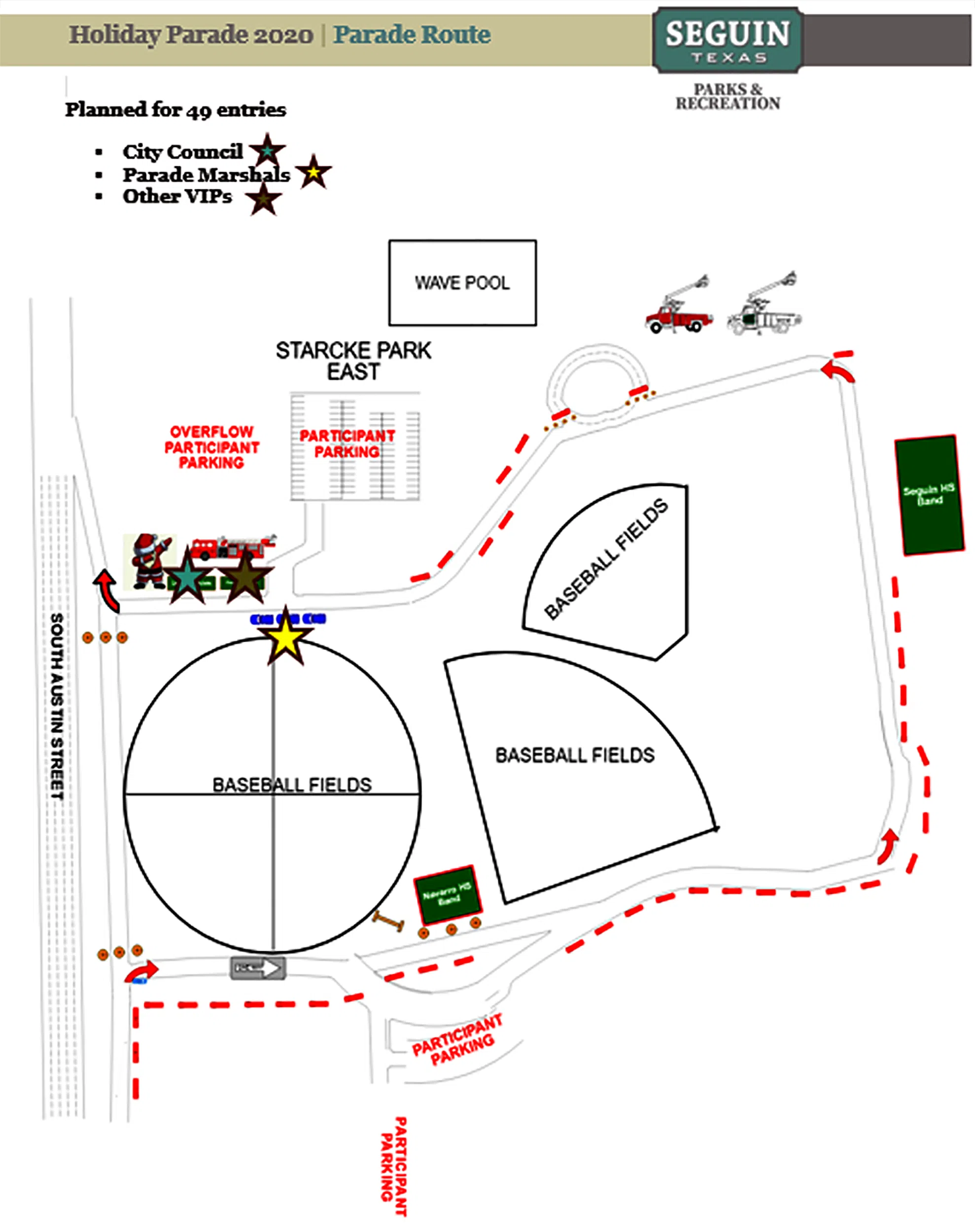 "We think that this is definitely a unique idea. We have a great parks system that has kind of a perfect one-way path to go through and that's kind of where the idea originated. A lot of different communities are doing just virtual events like virtual tree lightings maybe virtual Christmas, Santa experiences kind of thing but this is a chance to actually get out in the community but you get to stay in the safety of your own vehicle so there's definitely unique experiences here in Seguin so it's a little different than what other communities are doing and we want to make it the best that we can," said Hajek.
Hajek says all types of community groups are encouraged to participate. She says this year's parade is definitely one for the experience.
"The entry fee is free. There is no entry fee to participate. It can be any community organization, a group, a club, an elected official – any organization that wants to participate. We have businesses that come out. We have schools that come out so any community organization. We even have organizations from outside our community. We have someone coming out from Flatonia so it's not limited to just Seguin entries," said Hajek.
Hajek says signing up for the parade is easy and encourages groups to secure one of the limited spots as soon as possible.
"We have those available on our website at seguintexas.gov/parksandrecreation and we do have a deadline for entry and it's Tuesday, Nov. 24 so it's very important that everybody meets that deadline so we can get everything finalized but we are going to ask for information just your basic contact information, the size of your entry, will you play music and just a little bit more information about your entry so that our announcers can give a little bit more when we do our live feed on the day of the event," said Hajek.
The lighted night parade will be held from 6:30 to 8 p.m. Thursday Dec. 3 at Max Starcke Park. The parade will also be available via live stream on the city's Facebook page.
Applications for float entries can be found on the city's website, seguintexas.gov under the parks and recreation tab. Again, the deadline to enter is Tuesday, Nov. 24.