City pumps brakes on Holiday Stroll
Sunday, November 29, 2020
Dalondo Moultrie The Seguin Gazette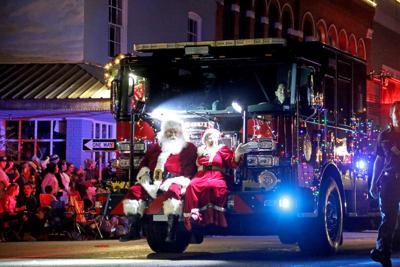 Dwindling participation and the recent increase in coronavirus cases locally led officials to cancel Seguin's annual Holiday Stroll Parade.
The cancelation marks the first time in 30 years that officials have pulled the plug on the parade, Seguin Parks and Recreation Director Jack Jones said.
"COVID got us," he said. "I really hope next year, 2021, is better and that all of the events the city has done and the nonprofits come back next year like the July 4 fireworks show and the parade, all the downtown special events."
City Council had discussed the parade at regular meetings in recent months, Jones said. During those discussions, council members decided to go with the Parks and Recreation Department's idea of holding a static parade, he said.
Instead of spectators sitting on the sides of a parade route and floats proceeding down the center, things would have flipped this year. The plan was for floats to park while spectators drove their vehicles between the floats and observed them from a safe social distance.
"When we talked to City Council about this back in September and even in October at the city council meetings, COVID, of course, was still out there.
It wasn't growing, it was just still out there," Jones said. "Obviously, you couldn't gather like we wanted to in Downtown Seguin. Everybody shoulder to shoulder in downtown just wasn't a good idea."
Officials with the city knew the virus wasn't going away anytime soon, so they expected a smaller turnout of floats, Jones said. They figured about 50 participants would have signed up by the deadline to enter floats into the refurbished parade, he said.
The deadline to submit entry forms was Tuesday, Nov. 25 and only 25 "external" entries were submitted along with about four for city employees, Jones said.
Mayor Donna Dodgen and City Manager Steve Parker consulted each other after the Tuesday deadline and made the decision to cancel the Dec. 3 event, the parks director said.
"We wanted to give people as much notice as possible on this cancelation so they didn't devote resources and manpower to put stuff together," Jones said. "Better to give as much notice as possible; I think that's what the mayor and city manager discussed."
Usually, the parade hosts about 80 or more floats, city officials said. Officials believe cancelation is the best way to ensure the health and safety of all involved, according to a news release.
The city had designated the police department as this year's parade marshals.
On Wednesday, Seguin Police Chief Terry Nichols said, in jest, that he and members of his department were devastated to learn of the cancelation the year the department was to be honored.
"We have great hope that next year we'll be able to do it again and do it even bigger," Nichols said. "In all seriousness, it is in the best interest of the community that they do this. The numbers are starting to rise back up."
On Tuesday, Guadalupe County Emergency Management Coordinator Patrick Pinder announced that the city of Seguin had 25 confirmed active cases of the virus within its borders. Guadalupe Regional Medical Center reported nine COVID patients hospitalized that day, he said.
Coronavirus infections rates increased in November, and Thanksgiving gatherings are predicted to lead to further increases in positive COVID-19 cases, Jones said.
"COVID really tells us what we can and can't do," Jones said. "The virus dictates all of these things. Kind of right now, COVID is telling us it's spreading quite a bit out there."
Dalondo Moultrie is the assistant managing editor of the Seguin Gazette. You can e-mail him at dalondo.moultrie@seguingazette.com
Category: news, City of Seguin